Jaclyn Roxanne Eilers (born July 20th, 1990) is a professional makeup artist who has built a huge fan base on YouTube for her beauty tutorials. Jaclyn grew up on a farm in Bureau County, Illinois and in 1998, her family decided to move to Tampa, Florida. She was home schooled before studying photography at a college in Sarasota, Florida.
Prior to becoming a YouTube personality, Jaclyn worked at a Mac Cosmetic retail store and also as a freelance makeup artist. She then went on to collaborate with Becca Cosmetics (an Australian based company) in 2015 and released "Champagne Pop," a highlighter which broke records in sales. The same year, she also collaborated with Morphe Cosmetics and released three cosmetic products that sold out quickly after being released.
In a YouTube video titled "Life Update: Divorce" that was dated back in May 2018, Jaclyn said…
— "John and I have never made good husband and wife, we've never made good partners, we've always made good friends."
In April 2018, Jaclyn hinted on Twitter that she and her husband of 8 and a half years of marriage, could be announcing their divorce.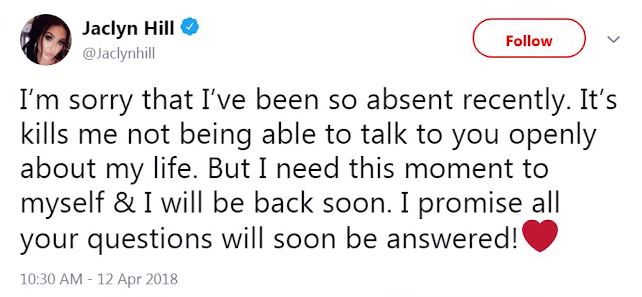 Jaclyn lives in Tampa, Florida where she focuses 100% on elevating her brand to the next level. Although she's dealing with cyber bullies and claims she's ready to deactivate her YouTube account, we all know her fanbase is a lot larger and stronger than her haters. It would be a shame to see her give up beauty tutorials over negative comments.
Jaclyn Hill Facts
Date of Birth
Birth Place
Birth Sign
Nationality
Occupation
Affiliated with
Networth
$1.5 M
How do I contact Jaclyn Hill?
Fun Facts on Jaclyn Eilers:
Jaclyn has two older siblings: Rachel & Nicholas.
Jaclyn's beauty products have sold out within moments of its release.
Jaclyn's family has traveled to multiple countries; while preaching Christianity.
[Featured Images by Jaclyn Eilers/Twitter]